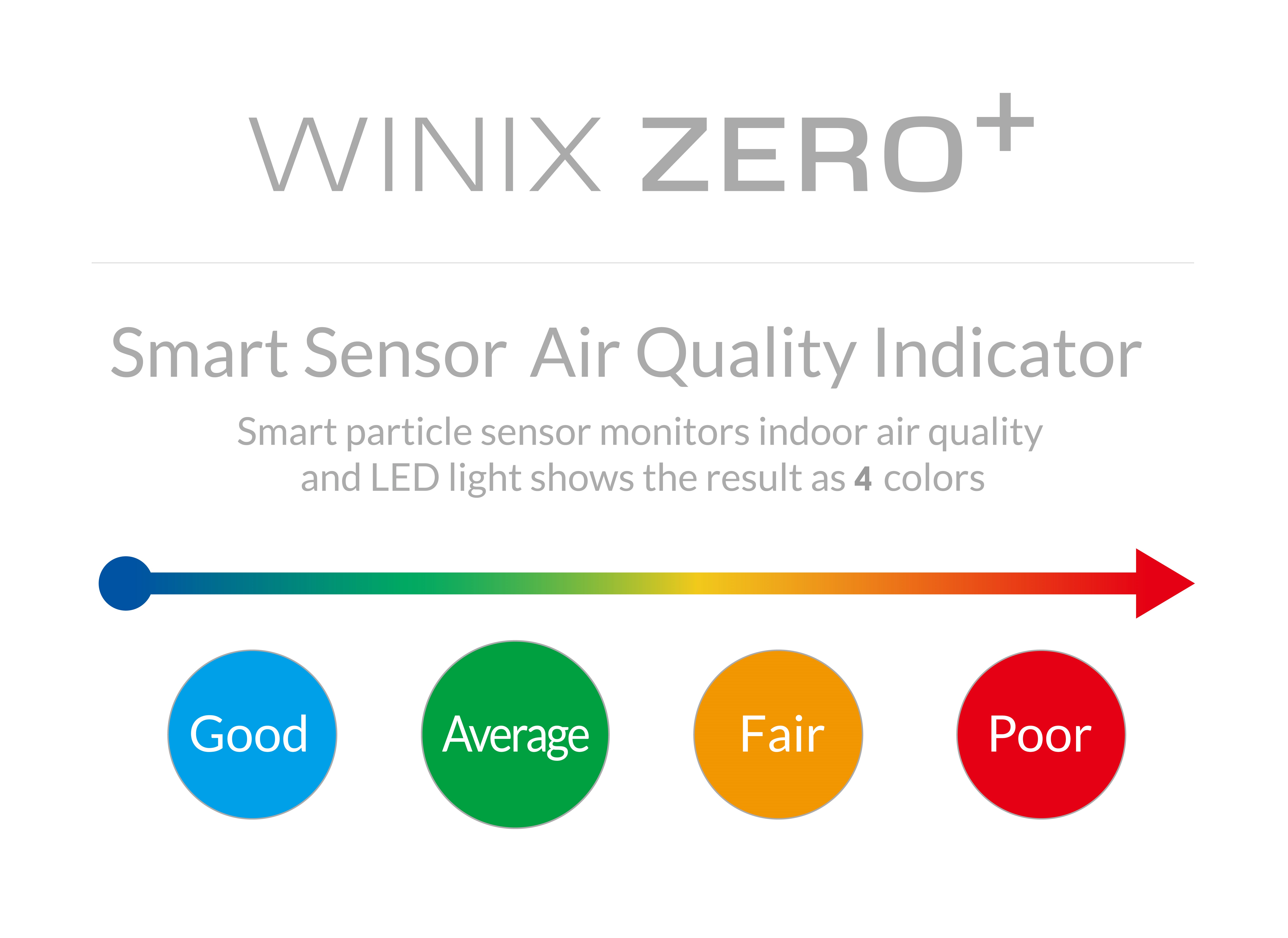 The Winix Zero+ Pro 5 stage Air Purifiers display 4 indicator colours:
Blue indicates GOOD air quality
Green indicates AVERAGE air quality
Amber indicates FAIR air quality
Red indicates POOR air quality
Blue = All good! The quality of the air entering the Air Purifiers sensors is good. The Air Purifier will continue to operate with a low fan speed, thus continuing to gently purify your air and continuously monitor the air quality in your room.
Green = The machine is detecting a small amount of contaminants and depending on the environment, will ramp between low and medium fan speed in an attempt to intake the correct amount of air to effectively clean the air in the room
Amber = A slightly higher level of contaminants have been detected and if the machine is on 'Auto' the machine will respond by increasing the fan speed so it can clean your air quickly. After a while, the indicator light should change back to 'Blue' unless the machine continues to detect contaminants in the air.
Red = The machine is detecting a considerable amount of contaminants and if it is set on 'Auto' the fan speed will increase to 'High' to clean the maximum amount of air.
If the machine is NOT set on Auto, it is recommended that you adjust the fan speed manually as described above i.e Blue = Low, Amber = Medium, Red = High.
If the Air Quality indicators are continuously displaying Amber or Red:
Make sure that the windows and doors are closed so that external contaminants cannot enter the room from outside.
Make sure that your machine has been well maintained. Are the filters clean? Is the area around the Air Quality Sensor clean? Is there anything obstructing the intakes or outlets of the machine? Follow instructions in manual to clean & maintain your air purifier
Make sure that the room itself is clean. Is there a lot of dust or other contaminants in the room?
Have you cleaned the area around the Air Quality sensor to ensure it is not blocked with dust or other contaminants - Follow instructions in manual to clean Dust sensor
For more information you can download the user manual for your WINIX ZERO+ PRO 5 stage air-purifier.